Summer Term Monday 16th April - Friday 27th July 2018
There are a variety of group coaching sessions available for 11 plus years, sessions take place on a Monday evening for children of all ages and of all abilities,whether you are a beginner, improver or advanced player there are sessions available for you.
Beginner - improver
For children who are new to tennis or have very little tennis experience
Interemdiate
For children who have some experience in a coaching and competition environment
Advanced
For children who have club and county level tournament experience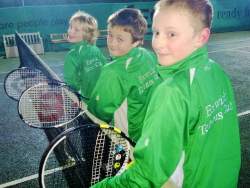 12 & Under Junior squad
Monday 16.00 - 16.45 (Beginner)
Monday 16.45 - 17.30 (Intermediate - Advanced)
14 & Under Junior squad
Friday 17.00 - 18.00 (Advanced)
Group coaching sessions are a great way to help you improve your tennis, meet new friends whilst continuing to develop your tennis skills.
Coaching sessions work out at:
£6 per session for a 45min / 1 hour
£8 for X2 1 hour sessions
£7 for a non member taster session
After this period non members will need to join the tennis club to continue.
Payments made on a block booking basis for members.
This term is a 14 week block so:
45min / 1 hour per week = £84.00
2 hours per week = £112.00
Please download and complete the enrolment form below and send it to:
F.A.O Steve Ashton, Exwick Tennis Club, 70 Barton Road, St Thomas Exeter, EX2 9BY
To enrol onto a course please complete and return the Enrolment Form